Let's hope this one doesn't change course to affect the same areas devastated by Ondoy...Watch out for it at
PAGASA's website
...
From Inquirer.net:
'Pepeng' gains strength as it moves towards northern Luzon
In other news:
World pours aid into the Philippines
- WFTW!
No debate: Deluge due to climate change
- they're playing the climate change/global warming card now
One toilet for 3,000 survivors at Cainta evacuation center
- hindi pa tapos ang paghihirap nila :(
Cops deployed to stop looters
- did you know that someone actually fished out Andrew's spare tire when he fled to higher ground and left his FX stalled and submerged in the SLEX river last Saturday? >_<
Ketsana death toll exceeds 300
- reports from all over SE Asia; 246 niyan sa atin :(
Red Cross: Indonesia quake death toll reaches 75
- I initially thought this was the same quake that affected Samoa...
American Samoans pull together after quake, tsunami
- sa atin baha, sa kanila tsunami; I therefore conclude - water is deadly! That's why I fear it so....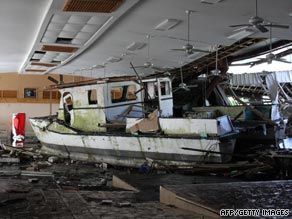 CNN's caption:
A damaged boat washed up inside a building in Pago Pago, American Samoa.